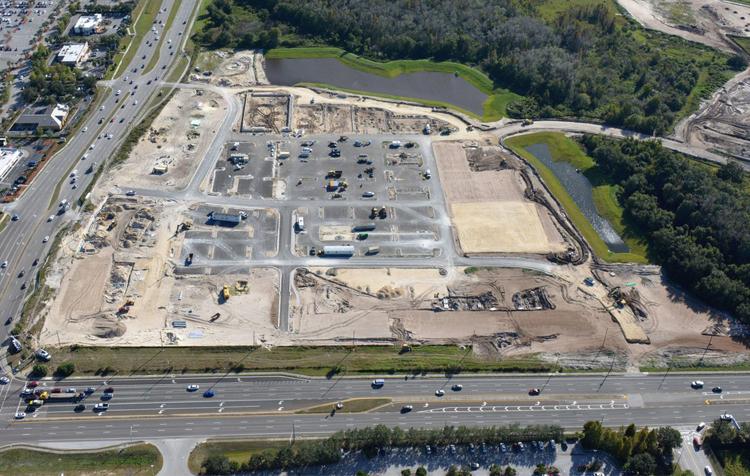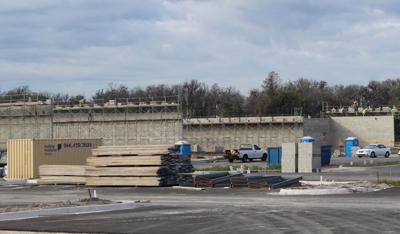 The walls are now going up for what will be a Michaels store, one of the anchor tenants in The Village at Mitchell Ranch.
The first phase of the ambitious and long-awaited project at the southwestern corner of that intersection, now known as The Village at Mitchell Ranch, has entered full-steam-ahead mode, with completion of most shops and restaurants slated for late July or early August. The 22-acre commercial portion of project is now not only seeing constant construction, but its tenant list is nearly full.
It is highlighted by commitments from anchor stores Michaels, HomeGoods and Sprouts Farmers Market ¬— the first unit of the Phoenix-based chain of organic food supermarkets to arrive in Pasco County.
Meanwhile, the smaller stores have quickly followed with commitments. Of the 165,000 square feet available, only 5,700 square feet of in-line storefront — connected to other stores — remains open and only two parcels on the exterior remain up for grabs. They are 0.79 acres along State Road 54 and 0.83 acres on Little Road, next to what is reserved for a future PDQ restaurant.
The sudden progress come on the heels of stagnation dating back to the concept's unveiling in 2015.
"We love it," Ryan Jonson, the manager of Steak 'n Shake on Little Road, across from the development, said. "We see this as a huge opportunity for more sales and everyone has been waiting and hoping to see something happen. Based on what I've heard, it has been worth waiting for."
Here's the rundown of what businesses are on board:
Retail and services
ULTA Beauty, Five Below, Sketchers, Hair Cuttery, Aspen Dental, Hand & Stone Massage and Facial Spa, Organic Nail Bar, Spectrum, Cyclebar and Mattress One.
Dining
First Watch, Chipotle, Menchie's, Jersey Mike's Subs, PDQ, Blaze Pizza, Louis Pappas and Panda Express.
The walls are already going up where Michaels will sit, on the south end of the plot.
Landing the three large anchor stores was key to the quick turnaround.
"Typically, the smaller ones will follow and flank them and that's exactly what happened here," said Jenn Buonanotte, spokeswoman for The Shopping Center Group, the Tampa-based leasing advisor assisting Blackwater Real Estate, the developer of The Village at Mitchell Ranch. "We think there's the perfect mix here of service providers, national names you'll recognize, some local favorites, and some soft goods."
She also credits the area's continuing population explosion.
"That's been the catalyst, going back to 2015," she said. "It just took some time for it to all fall into place."
Recent traffic studies show that nearly 119,000 consumers with an average household income of nearly $62,000 reside within five miles of The Village at Mitchell Ranch, with an average of nearly 150,000 vehicles traveling daily along State Route 54 and Little Road.
"Everyone has been very familiar with the viability of that market," Buonanotte said of the area.
Blackwater also developed the Wal-Mart Supercenter in the northwestern corner of Little Road and S.R. 54 and Mitchell Ranch Plaza, in the southeastern corner.